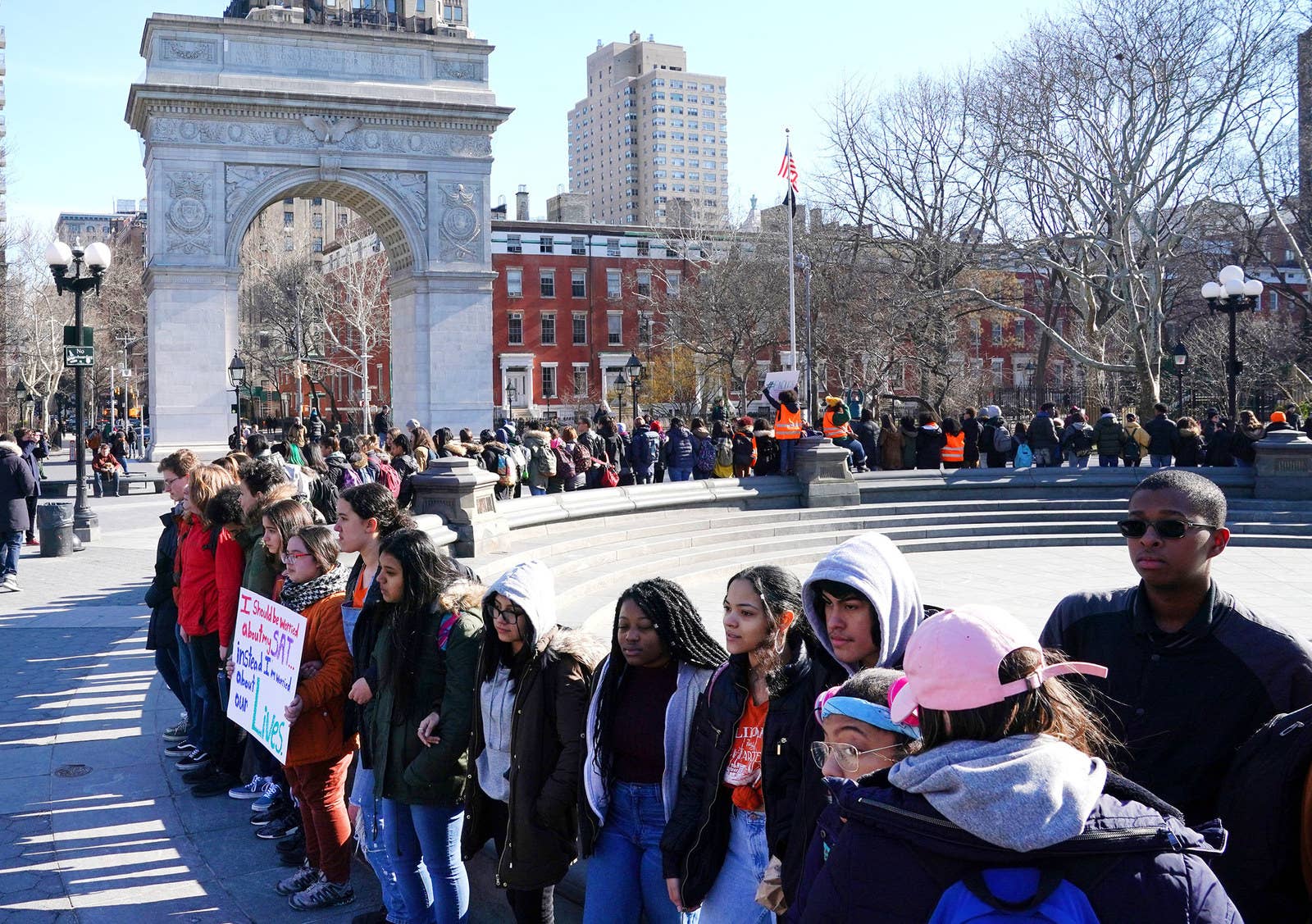 In March, several ISA schools in the New York metropolitan area joined youth across the country to protest the tragic loss of 17 students, faculty, and staff members at Marjory Stoneman Douglas High School in Parkland, Florida. The devastating incident galvanized student survivors and thousands of young people nationwide to protest current gun laws and demand policy changes. Specifically, Stoneman Douglas students and other concerned youth organized two major demonstrations, National School Walkout Day (March 14th) and March for Our Lives (March 24th).
Innovation High School in Jersey City, New Jersey, Harvest Collegiate in Manhattan, Bronxdale High School in the Bronx, and the Academy for Young Writers in Brooklyn each participated in National School Walkout Day. At Innovation, students read each victims' biographies aloud, took a moment of silence, and placed flowers in vases to honor their memories. Harvest Collegiate students marched to Washington Square, holding protest signs with thought-provoking phrases and locked arms around the fountain as a display of solidarity. Bronxdale students rallied on the school's football field, chanting "gun control, now!" In addition to observing Walkout Day, some Academy for Young Writers students attended March for Our Lives in New York, with a dual agenda. The Brooklyn students used the March as an opportunity to support Stoneman Douglas and to bring attention to issues plaguing their neighborhoods such as gun violence, housing discrimination, limited job availability, and policing concerns. [See the hyperlinks under the school name to see the national media attention each drew.]
As educator and activist Mary McLeod Bethune once said, "We have a powerful potential in our youth, and we must have the courage to change old ideas and practices so that we may direct their power toward good ends." All of the student protesters have shown great power and daring by their willingness to challenge lawmakers to seriously consider stricter gun control legislation. Hopefully their efforts will translate into protections for their lives and for generations to come.